Bill Clinton 2008 Parody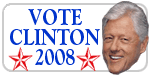 Vote Clinton 2008
Hello, this is Bill Clinton and I'm calling to ask you for your support. I am formally announcing that I am running again for president of the United States in 2008. Many of you have also heard that my wife Hillary will also be a candidate, and this is true. But don't vote for her. Because she's been linked to such unfortunate things as Whitewater, the healthcare debacle and hiring a young, fat, and horny intern. I on the other hand had nothing to do with any of these things. And I promise the whole time I was president, I never had sex with that woman, Hillary Clinton, not one time. I'm Bill Clinton, and I approved this message.

Disclaimer: This message was brought to you by the Elect a Clinton President Committee – not associated with Hillary Clinton, Chelsea Clinton, or George Clinton of the P-Funk Allstars.
Labels: Bill Clinton 2008